ABOUT US
The Garden Club of Alabama was founded on April 28, 1932 at the Jefferson Davis Hotel in Montgomery, when 71 delegates representing 50 Alabama Garden Clubs met and organized the Alabama Federation of Garden Clubs.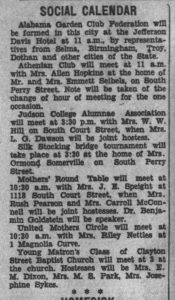 The official flower of the Garden Club of Alabama is the "Cape Jasmine" Gardenia.
It was chosen at the October 1, 1936, at the annual board meeting.