Membership
Membership ideas from the National Garden Club for Clubs to enhance and grow their membership are found in the Join Us Newsletter below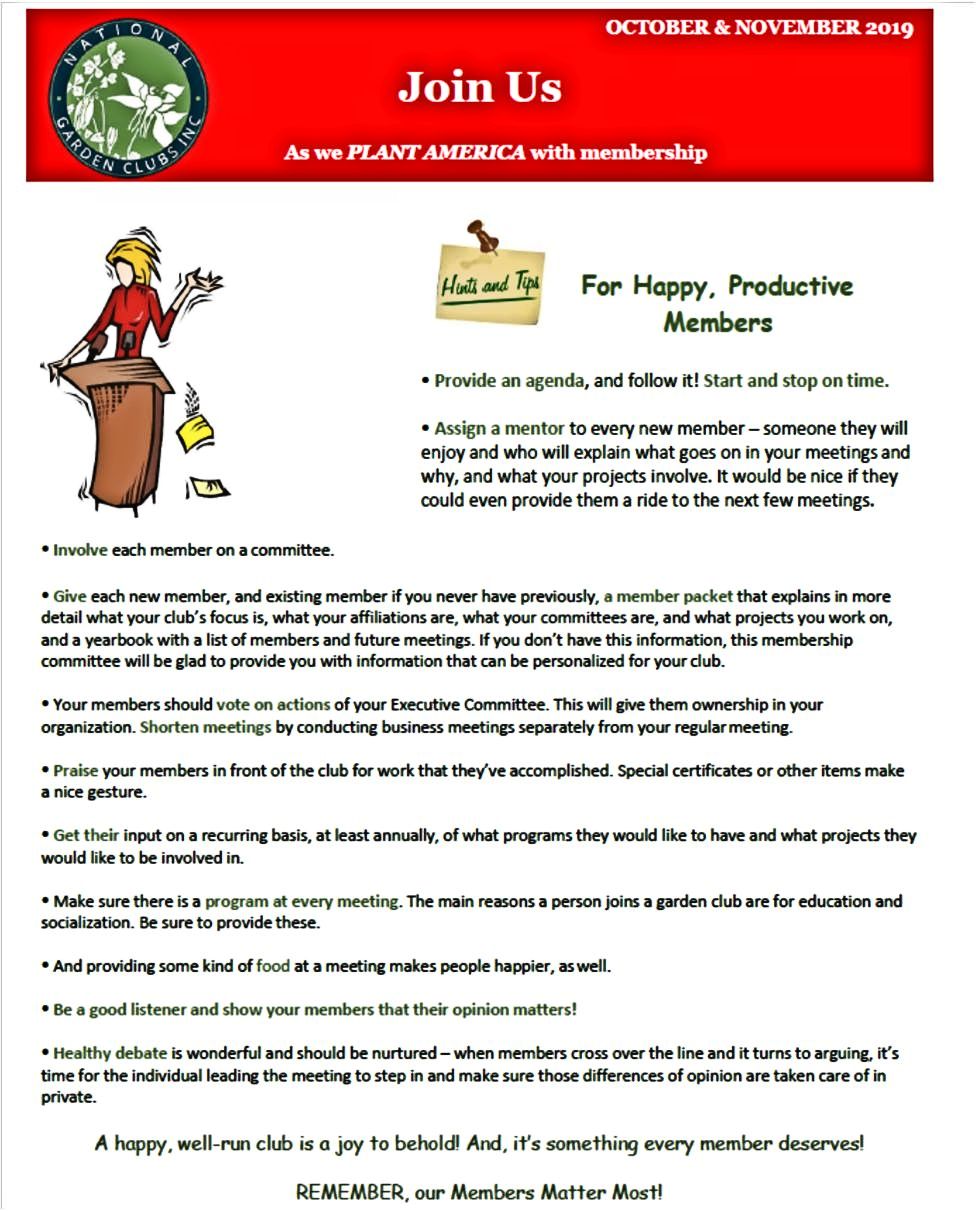 ---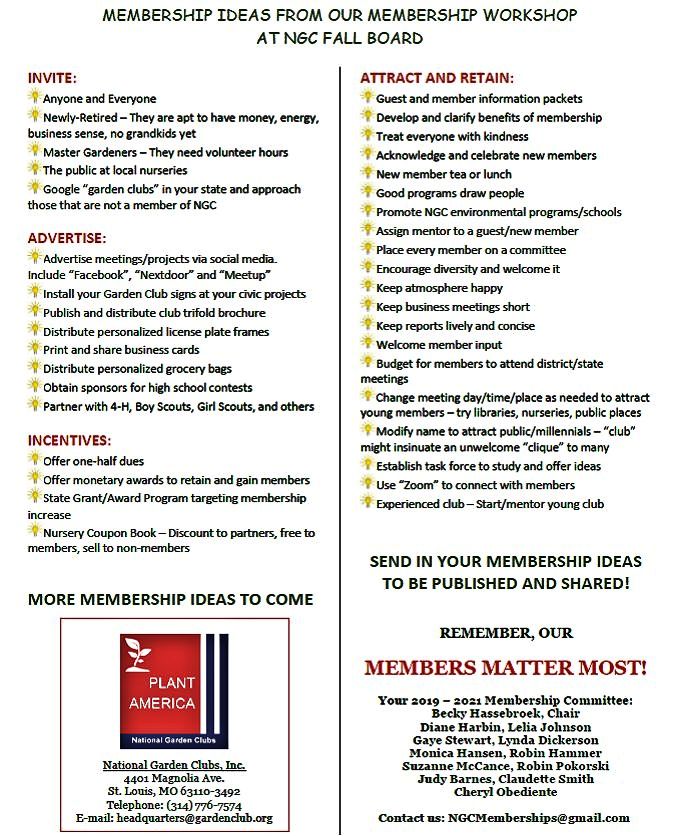 ---
If you are new to the area and would like to join a garden club contact our Membership  Chairman
---
The Benefits of Membership in The Garden Club of Alabama, Inc.
This was shared by District VI Director Judy Manning at the Winter 2012 GCA Board Meeting.
THE UPS AND DOWNS OF MEMBERSHIP
Author Unknown
Ten little members standing in a line
One disliked the president, then there were nine.
Nine ambitious members offered to work late
One forgot his promise, then there were eight.
Eight creative members had ideas good as heaven
One lost enthusiasm, then there were seven.
Six members remained with spirit and drive
One moved away, then there were five.
Five steadfast members wished there were more
One became indifferent, then there were four.
Four cheerful members who never disagree
'Til one complained of meetings, then there were three.
Three eager members! What do they do?
One got discouraged, then there were two.
Two loyal members: our rhyme is nearly done.
One joined an athletic club then there was one.
One faithful member was feeling rather blue
Met with a neighbor, then there were two.
Two earnest members each enrolled one more
Doubling their number, and then there were four.
Four determined members just couldn't wait
'Til each won another, then there were eight.
Eight excited members signed up sixteen more
In another six verses, there'll be A THOUSAND TWENTY-FOUR!

Why Belong to Garden Club?
(By then-District VIII Director Dora Pelham, as delivered on November 1, 2001 to the members attending the annual district meeting in Butler.)
Some of my friends have asked me why I am enthusiastic about Garden Club activities. Here are a few of my reasons:
The Federated Garden Club is the largest organization for "earth keeping" in the world. Belonging makes me part of a 300,000 person lobbying voice which is solely dedicated to beautification and the environment. I have a chance to combine my influence with that of 300,000 others, so we built a garden next to the Smithsonian in Washington, asked and received a wildflower planting program in Alabama, and then I was invited to the Capitol for a Christmas Tea. These are all benefits of my Garden Club work. I would not have the chance to influence the local government for beautification if I was not a member, but I do now. The town council can expect a visit if our beautification gets too far behind, or we have too much tree cutting, or if the plants on the square are not watered for a long time. When I go, I am not one person, but a local Garden Club of 29 women, and in a town of 7000, 29 people are important.
On Wednesday I went to District 6's meeting and met the wife of the Greenville mayor. I may have done that some other time, but now she and I have something in common…the Garden Club. Recently, I met Jane Bates' mother. We have an instant connection – our garden club membership. Not only is my life made more fun and enriched with friends, I have the satisfaction of knowing that others lives are being changed.
Think of the young man from Robertsdale who was the recipient of the Auburn Scholarship last year. As I understand it, the university called a local member of the Garden Club and told her that the young man had no money to continue school and asked if we would use the Life Membership money (which is kept for scholarships) for him, and that was done. I would never have had a hand in changing that man's life, if it had not been for my Garden Club membership.
So, you see, the Garden Club makes me part of the Smithsonian, Auburn, the capitol, and has given me all of you for friends. How could I help but be enthusiastic?
Our Kiwanis Club had a visiting sociologist to come to speak recently and he said that the life of a town is in volunteerism. He said it was charted that when a town started to die, the volunteers quit working (or maybe when the vol¬unteers quit working, the town started to die). Things like blood drives would be poorly attended, apathy would set in, and folks would quit keeping up the streets and buildings. Then at that time, the schools would slow down and parent involvement would decrease. Then the town would be in serious decline. That was a wake up call for many of us, and we examined our sighs of "Oh! I just want to go watch the TV".
We now know that if we are going to pass on a vibrant, happy place for our children, we have to get out there and keep it going. That is what Garden Club is doing for us. We plant hope with every bedding flower and just imagine how many bedding plants that the 300,000 garden club members are putting in right now. We are keeping the earth blooming.