HISTORY OF THE GARDEN CLUB OF ALABAMA, INC.
Taken from a PRESENTATION AT THE 80TH  G.C.A. CONVENTION
By ANN FINDLATER, GCA HISTORIAN, MARCH 30, 2012
    On April 28, 1932 at the Jefferson Davis Hotel in Montgomery, 71 delegates representing 50 Alabama Garden Clubs met and organized the Alabama Federation of Garden Clubs.


Alabama could rightfully claim to have the oldest Horticultural Society in the South. A Horticultural Society was organized at Chunnenuggee Ridge (near Union Springs, east of Montgomery) in 1847 with a public garden added shortly afterward.  Chunnenuggee Public Garden Club is still active in G.C.A. today.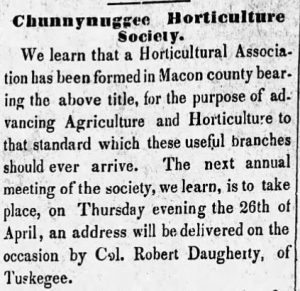 Daily State Guard April 6, 1849
In 1941 a Garden School on Flower Show Exhibiting and Judging, sponsored by GCA and the Alabama Extension Service was held at Alabama Polytechnic Institute (now Auburn University) in Auburn.



GCA won national recognition in 1942 by promoting Victory Garden Harvest Shows to help meet emergency needs of the armed forces and their families. $1,730.19 was sent to the Army and Navy Relief Funds. 

This same year, the first issue of the GCA bulletin "Hortensia" (which means 'Lady Gardener') was published with 163 subscribers.
Alabama Journal March 4, 1943
    In 1943 $2,500.00 was raised by contributions from clubs to purchase an ambulance that was presented to the Red Cross for service overseas. In 1944, Route 31 in Alabama was designated as the Blue Star Memorial Highway honoring military members who'd lost their lives in service.  
Edith Craddock, the GCA president 1946-48 had as her theme "In a State Where Gardens Grow, God Walks" which was later adopted as the official motto of the organization. She wrote a Garden Club Collect, which has also been adopted by GCA.

  During 1948-1950, state dues were increased to 50¢ per member, which included a subscription to Hortensia. The  Christmas lighting program    "Every Light a Prayer for Peace" was begun December 1, 1951, and gained attention from National Council.  It is now observed by Garden Clubs throughout the nation.

In August 1951 the Tulip Garden Club was formed.

In July 1952 the Flowers Garden Club was formed.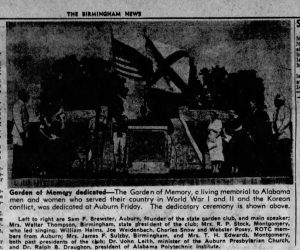 The first Horticulture Scholarship was established in 1954. It was an annual gift of $250.00 to a student at Alabama Polytechnic Institute. [Auburn University] $4,000.00 was raised to endow the fund.  Also that year, the Garden of Memory on the Auburn campus was completed and dedicated as a Living Memorial.

In March 1954 the Redstone Garden Club was formed.

In March 1958 the Canterbury Bells Garden Club was founded.
Updates
The Garden of Memory was later  rededicated and renamed Auburn Memory Garden in November 2016.
Letter to the Editor of the Opelika Observer
Old Newspaper Articles about the Garden Club of Alabama.