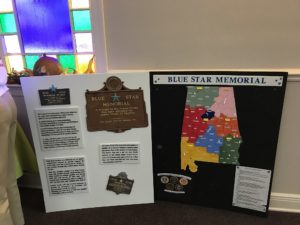 Directions to Ft. Mitchell National Cemetery: U.S. Hwy 431, 2 miles south of intersection with Hwy 280 in Phenix City, AL, turn onto Alabama Hwy 165 and go 6 miles to the National Cemetery entrance. (look for sign on left). The GCA Blue Star marker is located just inside the entrance on the right.
Despite the last-minute change of dates, an impressive ceremony was held to dedicate the Blue Star marker at the Ft. Mitchell National Cemetery on March 5, 2013.  Director of the Ft. Mitchell National Cemetery James Sanders bade the group gathered welcome. Earl Hutchinson, president of the Ft. Mitchell Support Committee, reminded us of the importance of remembering the service and sacrifice of our armed forces. The Rev. Otis Broadnax, pastor of the First Missionary Baptist Church of Hurtsboro, AL. gave a powerful invocation.  The colors were posted by members of the Buffalo Soldiers Global Recognition and Riding Club. GCA President Jo Ann Wade and GCA Blue Star Marker Chairman gave a history of the Blue Star marker program and unveiled the new marker.  Members of several local VFW posts, Russell County and Phenix City commissioners, active military officers, the news media, and members of several garden clubs attended.
The Garden Club of Alabama was honored for the event with a certificate of appreciation from NGC.
The Blue Star Memorial Program of National Garden Clubs, Inc. began in 1945 to honor the men and women serving in the Armed Forces during World War II.  The name was chosen for the star on flags displayed in homes and businesses denoting a family member being in the service.
Garden clubs envisioned a ribbon of living memorial signs and plantings traversing every state.  The Blue Star Highway designation was achieved through petitions to  state legislatures and cooperation with the Departments of Transportation.  A uniform marker was designed to identify the highways.
This program grew to extend thousands of miles across the continental United States, Alaska and Hawaii.  All men and women who have served, are serving, or will serve in the Armed Forces of the United States are included.
Markers continue to be erected and dedicated each year on highways, at Veteran's facilities, National Cemeteries, parks, civic and historic sites to show our appreciation for those who defend our country.
The VFW members present at the  Ft. Mitchell National Cemetery dedication were so impressed with the Blue Star Marker that they have placed two more in Phenix City in conjunction with GCA. They were dedicated with the help of incoming GCA President Trece Chancellor on Flag Day, June 14, 2013. One is located near the entrance to Garrett-Harrison Stadium on Summerville Road, and the other one is in the Veterans Park near the Vietnam Memorial.