It was an honor for me to accept the position of President and to represent the Garden Club of Alabama for the next two years. With your help we will continue to carry on the work that has been handed down to us by previous Presidents.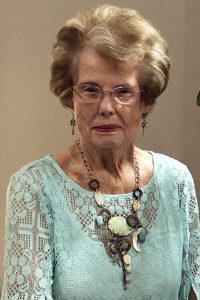 I first began my work in Garden Club in 1965 when I became a member of Bud's and Blossom Garden Club. In my wildest dreams, I never dreamed that someday I would be President of this great organization.
"To plant a garden is a belief in tomorrow" will be my theme for the next two years. We will be expanding on National Council's Garden Club theme which is "Get Back to Nature".
"The Frightened Frog" teaches our youth the care of Amphibians and "Save the Seed" teaches youth gardening. These books will still be available for purchase from National Garden Club. Both books are great educational teaching tools for our youth.
The Monarch Butterfly is also a concern for our environment. Did you know that the best way to help pollinators and monarchs is to plant milkweed?  I encourage each garden club member to do this.
The next two years I would like for us to concentrate on "Container Vegetable Gardening".  We need to plant and grow vegetables that can be eaten.
Membership is our great concern. I encourage each garden club to seek new members. We need the ideas and energy that the younger generation can bring us. Remember "Members Matter Most". The success of this organization depends on all of us working together.
Genesis 2:15 says "The Lord God took the man and put him in the Garden of Eden to work and keep it."  I want each of us to work on keeping up the good work that has been done and at the end of the day we can hear God say "You have earned one more tomorrow by the work you did today."
Thank you.
Sybil Ingram, President
The Garden Club of Alabama