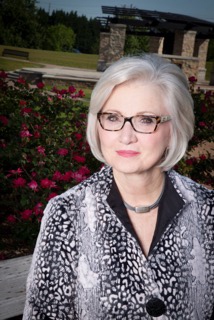 I am deeply honored to serve as the Garden Club of Alabama, Inc. State President and to represent a state with enthusiastic, involved members who are dedicated to service in our state and in our communities.
I am inspired and take enormous pride in the work and dedication of our current members all across this great state.
My story in gardening began many years ago as a child with grandparents that lived on a farm. The smell and feel of dirt was familiar because we dug in that dirt, we planted seeds in that dirt and we harvested out of that dirt. We even ate what we had harvested. It was a great privilege and a humbling experience to plant the seeds, watch them grow and learn how to care for what we had been given.
"Plant Today for Tomorrow's Growth" is our theme for the next two years which will complement our National President's theme of "Plant America". We have enjoyed "The Frightened Frog" book as it educated our youth in caring for Amphibians in our environment. Our new book is entitled "Save to Seed" which teaches our youth about gardening. Its premise is to teach a young child that seeds come from nature, not in a package at the store. Container Gardening for Pollinators emphasizing Native Plants will be one of our projects. Containers can be done at our homes, in our communities on street corners, neighborhood plantings, Assisted Living Centers and our churches.
I challenge us to continue with our projects on Pollinators, Amphibians and Leadership. We have just begun to educate the pubic on the effects that pollinators and amphibians have on our environment. We still have much more to do in this education effort. Our Leadership projects will help assure that these efforts will continue from generation to generation.
I encourage all of us to continue working with Youth as we bring to them an increased awareness of nature and the beauty that God has given us of which we are to be stewards. I believe that we should plant seeds of encouragement for gardening in all generations especially our younger generation. As we plant our youthful seeds, we nurture them and help them grow.
As we all know, the success of the Garden Club of Alabama is not the result of a few people. We all have a part that together makes our organization a great success.
There are three areas that I would like to emphasize. They are Unity, Support and Membership.
Unity: Strength is in numbers and in working together to promote the goals of the Garden Club of Alabama, Inc., the Deep South Garden Clubs, Inc. and the National Garden Clubs, Inc. The result will be stronger garden clubs.
Support: Let us support each other. As we support each other at every level, we will make our organizations stronger.
Let us also have an emphasis on growing our Membership because our future is in our younger generation. Let us continue to attract new members while retaining our present membership as we continue to reach out in our communities.
"Step Up, Accept Challenges, & Continue to Grow"
was a challenge given to us at National Garden Cub and I would give all of us the same challenge.
In conclusion, I ran across a saying not long ago that said: "Every Flower has to go through a lot of dirt".
Let's do our part, let's get out there and let's plant our seeds is GOOD dirt and make this State even more beautiful.
Tricia Mitchell, President
The Garden Club of Alabama